Categories
Information
More Information
For Luthiers...

Guitar makers tools and parts for all your stringed instrument making needs.
Here you'll find templates, moulding forms, plus a few odds'n'ends that will be added from time to time.

Check back often, you never know what might come into the store!

If you're here, you probably know what a Luthier is, and what they do. If not, here's a description for the curious from Wikipedia -

---
A luthier is someone who builds or repairs string instruments generally consisting of a neck and a sound box. The word "luthier" comes from the French word luth, which means lute. A luthier was originally a maker of lutes, but the term now includes makers of stringed instruments such as the violin or classical guitar. A luthier does not make harps or pianos, as these require different skills and construction methods because their strings are secured to a frame. The craft of making string instruments, or lutherie (sometimes spelled luthiery), is commonly divided into two main categories: makers of stringed instruments that are plucked or strummed, and those that are bowed. Since bowed instruments require a bow, the second category includes a subtype known as a bow maker or archetier. Luthiers may also teach string-instrument making, either through apprenticeship or formal classroom instruction.
---


Couldn't have said it better myself!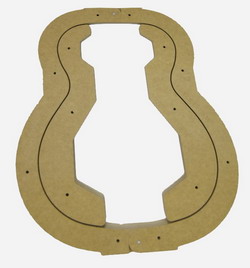 Acoustic Molds

Radius Dish
Your IP Address is: 3.235.147.50